English Section – older articles
Israel denies Bedouins right to elect representatives
by Jillian Kestler-D'Amours, The Electronic Intifada
Negev, 24 December 2012
As campaign posters pop up around Israel ahead of the country's upcoming parliamentary elections, Palestinian Bedouin citizens of the state are still reeling after being denied the chance to elect their own local council representatives.
Legal rights activists say the move represents the limits of democracy in Israel, particularly with regard to its non-Jewish citizens.
"Every citizen wants to have a say in the affairs of their lives. This is their legal right," Jazi Abu Kaf, a local leader in Um Batin, a Bedouin village of some 4,000 residents in the southern Naqab (Negev) desert, said. "The authorities don't want to allow elections or see leaders [emerge] from among the local people."

Israel's environmental colonialism and eco-apartheid
by Ben Lorber
Links international Journal of Socialist Renewal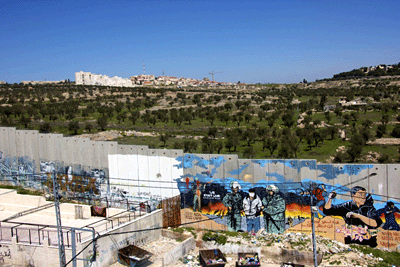 The construction of Israel's mammoth apartheid wall has separated Palestinian farmers from their fields and destroyed Palestinians' legally owned fertile agricultural land.
Since the idea of Zionism first gripped the minds of a few intellectuals and the limbs of many agrarian pioneers in the early 20th century, the state of Israel has presented its settlement of the land of Palestine, and its uprooting of the Palestinian people, as a rejuvenation of the earth. By "greenwashing" the occupation, Israel hides its apartheid behind an environmentalist mirage, and distracts public attention not only from its brutal oppression of the Palestinian people, but from its large-scale degradation of the earth upon which these tragedies unfold.
Determined to "make the desert bloom", an international organisation -- the Jewish National Fund-Keren Kayemet LeYisrael (JNF-KKL, or JNF) planted forests, recreational parks and nature reserves to cover over the ruins of Palestinian villages, as refugees were scattered far from, or worse, a few hilltops away from, the land upon which they and their ancestors had based their lives and livelihoods.
Today, as Israel portrays itself as a "green democracy"', an eco-friendly pioneer in agricultural techniques such as drip irrigation, dairy farming, desert ecology, water management and solar energy, Israeli factories drain toxic waste and industrial pollutants down from occupied West Bank hilltops into Palestinian villages, and over-pumping of groundwater aquifers denies Palestinians access to vital water sources in a context of increasing water scarcity and pollution.
Jewish National Fund
The Jewish National Fund (JNF), perhaps the first transnational environmental NGO, was established in 1901, as the first wave of Jewish immigrants were settling in Palestine under the banner of Zionism. Throughout the 20th century, as the indigenous Arab population of Palestine found itself either expelled from its homeland or oppressed under the hand of a foreign invader, the JNF succeeded in raising enormous amounts of money to acquire and develop land throughout the territory that, in 1948, would become known as the State of Israel. Distinct from other transnational Zionist fundraising and advocacy organisations, such as the Jewish Agency, the JNF portrayed itself, from the beginning, as an environmental organisation, serving, according to its website, to "protect the land, green the landscape and preserve vital ecosystems" by "planting seedlings, maintaining forest health, combating desertification, protecting watersheds and managing water flow … [and] balancing the phenomenal growth and development Israel has experienced in the last decade with the maintenance of an ecologically sound environment".
Proud that "Israel is the only country in the world that will enter the 21st century with a net gain in numbers of trees", the JNF credits itself with planting 250 million trees, building more than 210 reservoirs and dams, developing more than 250,000 acres of land, creating more than 1000 parks and providing the infrastructure for more than 1000 communities throughout Israel. Suiting a state constructed for a single cultural-religious group, the JNF promotes an exclusionary, discriminatory brand of environmentalism. From its inception in 1901 -- when the JNF controlled but a single olive grove in a land where 94% of its neighbours were Arab -- to today, working closely with the Israel government, the JNF directly owns 13% of Israel's land and effectively controls another 80%. The JNF's constitution has explicitly stated that its land cannot be rented, leased, sold to or worked by non-Jews.
Throughout the first half of the 20th century, the JNF-- helping to exile hundreds of thousands of Palestinian families, bulldoze their homes and clear the land to make way for Jewish settlement -- bought large tracts of land from absentee landowners, evicted local Arab tenant farmers, uprooted natural vegetation of olive, carob and pistachio trees, and planted throughout the land, in place of indigenous arboreta, vast swaths of European pinera (conifers) and eucalyptus trees.
Forests, parks and recreational facilities were strategically placed atop the ruins of destroyed Palestinian villages, so that the fast-growing pines would erase the history of Palestinian existence and prevent refugees from ever returning to their homes. In addition, pine forests were planted to guard and expand settlements built atop stolen land and, after 1967, to seize and divide Palestinian territory within east Jerusalem and the occupied West Bank.
The pines helped evoke images of a European wilderness, creating a familiar "natural" environment for the mostly European Jewish settlers, so much so that settlers affectionately nicknamed Carmel National Park, planted partially over the destroyed Palestinian village of al-Tira, "little Switzerland" for its resemblance to the Swiss Alps. Foreign species, these pine forests, then and now, often fail to adapt to the local soil and require frequent re-planting. As they age, they demand more water and become more prone to problems like pests, disease and conflagrations, such as the 2010 Carmel wildfire, deemed the worst in Israel's history. As their fast-growing acidic pine needles fall to the ground, they destroy all other surrounding small plants, thus ruining the livelihood of Palestinian shepherds, whose animals depend on grazing land.
More at: links.org.

Israel's Para-state Institutions Operating in the United States
by Karen Pennington and Joseph Schechla
The Jewish National Fund (JNF), a.k.a. Keren Keyemeth le Israel, Inc. (KKL), has a long and obscure legal existence in the United States that occasionally has come to light in open court. This article addresses the history of selective U.S. legal and diplomatic action concerning the JNF. The JNF's U.S. arm defines itself as a charitable organization, thus claiming and enjoying tax exemption with its associated para-state organizations, only once effectively challenged since 1926. The context and arguments of domestic U.S. jurisprudence now may suggest a new direction for U.S. federal courts to reconcile some of the related legal contradictions that also having grave consequences for US foreign policy towards the Middle East, but primarily for the direct victims of Israel's para-state institutions. […]
Recently, disputes have arisen between the Jerusalem-based KKL and its international branches. In light of encroaching legal and popular scrutiny of their operations, the U.S. and UK affiliates have sought at least a rhetorical hedge against exposure of an association with the KKL that would cause them to lose nonprofit status in their host countries. The U.S. entity finally registered itself in New York State as a separate entity in 2003. The New York Secretary of State website lists "KKL-USA, INC," founded 15 May 2003, as a nonprofit association. Information resurfacing shows that the U.S. affiliate is actually not separate from the KKL-Israel, as indeed it never has been. Donations to the U.S. arm of the JNF have historically formed the largest source of cash contributions to the KKL-Israel.
More at: badil.org.

Effective annexation: Israel now stamping passports of West Bank visitors"Judea and Samaria only"
by Ali Abunimah, electronicintifada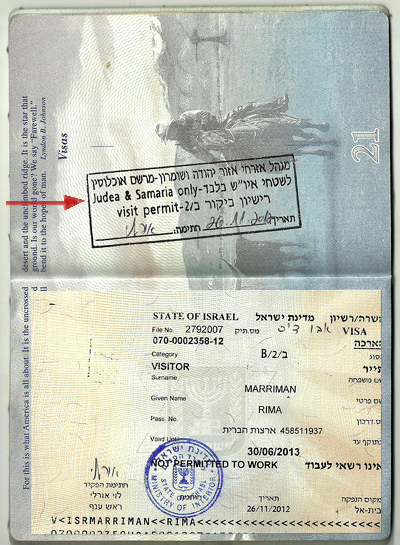 Judea & Samaria only
Because the Palestinian Authority has no real control or sovereignty, anyone who wishes to go to the occupied West Bank can only do so with Israeli permission. This includes foreign visitors and thousands of Palestinians with third country passports who live or visit there.
Even though many foreign nationals live and work in the West Bank, there is no such thing as a work permit that allows them to work for Palestinian institutions or companies based in the occupied West Bank, or simply to live there securely.
So such people get Israeli "tourist" visas which they have to constantly renew and which are frequently arbitrarily denied (...)
Stamping passports "Judea and Samaria"
In the past, an Israeli visa meant that a foreign visitor or Palestinian with a foreign passport could roam throughout "Israel" and across the West Bank.
But since at least 2009, Israel began stamping passports of visitors to the West Bank with the words "Palestinian Authority only," meaning that the bearer could only move within the occupied West Bank.
Now in a significant new development, Israel has begun stamping passports with the words "Judea & Samaria only."
Full article on: electronicintifada.net.

Nobel peace laureates call for Israel military boycott over Gaza assault
Letter with 52 signatories including artists and activists also denounces US and EU 'complicity' through weapons sales
Full article: guardian.co.uk.

If Not Two States, Then One
by Saree Makdisi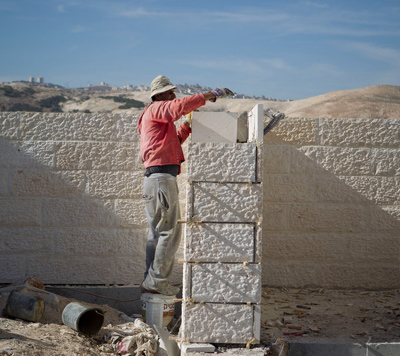 The illegal building on occupied land just carries on
ISRAEL did not wait long to reveal its first response to the United Nations General Assembly's overwhelming recognition of Palestine as a non-member state, almost immediately announcing its intention to push forward with plans to build housing for Jewish settlers in E1, an area of the West Bank just to the east of Jerusalem.
Although it is sometimes misleadingly referred to as "disputed" or "controversial," settlement construction in E1 is no more and no less of a contravention of international law than settlement construction elsewhere in the West Bank or East Jerusalem. What makes this development significant is E1's location, sealing tight the gap between East Jerusalem and Israel's largest settlement, Maale Adumim, further to the east.
That gap is the last remaining link for Palestinians between the northern and southern parts of the West Bank; it also occupies the interface among and between the Palestinian communities of Ramallah, Bethlehem and East Jerusalem — which, apart from being the cultural, religious, social and economic focal point of Palestinian life, is also one day supposed to be the capital of Palestine.
To the article: New York Times

The Gaza Ceasefire: An Early Assessment
by Richard Falk
Shortly after an israeli bombing raid, an injured man
looks anxiously to the sky
The Gaza Ceasefire, unlike a similar ceasefire achieved after Operation Cast Lead four years ago, is an event that has a likely significance far beyond ending the violence after eight days of murderous attacks. It is just possible that it will be looked back upon as a turning point in the long struggle between Israel and Palestine. Many have talked about 'the fog of war,' but it pales besides the 'the fog of truce making,' and in our media-infected air, the outcomes along with conjectures about the future are already being spun in all possible directions. Supporters of every position give their own spin, and then proclaim 'victory.' But as with the violent phases of the conflict, it is clarifying to distinguish the more persuasive contentions and interpretations from those that are less persuasive. What follows is one such attempt at such clarification.
It remains too soon to tell whether the ceasefire will hold for very long, and if it does, whether its central provisions will be implemented in good faith. At this early moment, the prospects are not promising. Israel has already used excessive violence to disperse Palestinian civilians who gathered on the Gaza side of the border, with a few straying across into Israel, to celebrate what they thought was their new freedom now to venture close to the border. This so-called 'no-go-area' was decreed by Israel after its 2005 'disengagement' has been a killing field where 213, including 17 children and 154 uninvolved, had lost their lives according to Israeli human rights organizations. Israeli security forces, after firing warning shots, killed one Palestinian civilian and wounded another 20 others with live ammunition. The Israeli explanation was that it had given warnings, and since there had been no agreement on new ground rules implementing the ceasefire, the old regime of control was still in place. It is notable that Hamas protested, but at this point has made no moves to cancel the ceasefire or to retaliate violently, but the situation remains tense, fragile, and subject to change.
Putting aside the precariousness of the current situation and the accompanying uncertainties, it remains useful to look at the process by which the ceasefire was brought about, how this sheds light on the changing dynamics of the conflict itself, as well as discloses some underlying shifts in the regional and global balances of forces.
First of all, the role and outlook of the Arab governments was far more pro-active than in past interludes of intensified Israel/Palestine violence. During attacks several leading foreign ministers from the region visited Gaza and were received by the Hamas governing authorities, thus undermining the Israeli policy of isolating Hamas and excluding it from participation in diplomacy affecting the Palestinian people. Egypt played the critical role in brokering the agreement, and despite the Muslim Brotherhood affiliation of its leaders. Mohammed Morsi, the Egyptian President, emerged as the key diplomatic figure in the process and widely praised by the West for his 'pragmatism.' This can be understood as recognition of Morsi's capability as a statesman to address the concerns of both sides without intruding his own pro-Palestinian outlook. Indeed, the auspices of this brokered agreement inverted what Americans have brought to the table in past negotiations, a pretension of balance, a reality of partisanship.
Secondly, the text of the agreement implicitly acknowledged Hamas as the governing authority of Gaza, and thereby gives it, at least temporarily, a greatly enhanced status among Palestinians, regionally, and internationally. Its claim to be a (not the) legitimate representative of the Palestinian people has now become plausible, making Hamas a political actor that has for the moment been brought in from the terrorist cold. While Hamas is almost certain to remain formally 'a terrorist organization' in the eyes of Israel, the United States, and Europe, throughout this just concluded feverish effort to establish a ceasefire, Hamas was treated as if 'a political actor' with sovereign authority to speak on behalf of the people living in Gaza. Such a move represents a potential sea change, depending on whether there is an effort to build on the momentum achieved or a return to the futile and embittering Israeli/U.S. policy of excluding Hamas from diplomatic channels by insisting that no contact with a terrorist organization is permissible or politically acceptable. Correspondingly, the Palestinian Authority, and its leader, Mahmoud Abbas, have been for the moment awkwardly sidelined, overshadowed, and made to appear irrelevant in the midst of this latest terrible ordeal affecting the Palestinian people. It is puzzling why such an impression was fostered by the approach taken by all the diplomatic players.
Thirdly, Israel accepted as integral conditions of the ceasefire two sets of obligations toward the people of Gaza that it would never have agreed to before it launched its Pillar of Defense Operation: (1) agreeing not to engage in "incursions and targeting of individuals" and (2) agreeing to meet so as to arrange for the "opening the crossings and facilitating the movements of people and the transfer of goods, and refraining from restricting residents free movement, and targeting residents in border areas." If implemented in good faith by Israel, this means the end of targeted assassinations and it requires the lifting of the blockade that has tormented Gaza for more than five years. These are major setbacks for the Israeli policy, although Hamas is obligated to stop sending rockets from its territory. The political acceptance by Tel Aviv of a prohibition on targeted assassinations, if respected, renounces a favorite tactic of Israeli governments for many years, which although generally regarded as illegal was still frequently relied upon by Israel with impunity. Indeed, the most dramatic precipitating event in the recent controversial unfolding crisis timeline was the killing of Ahmed al-Jabari on 14 November, a military/political leader of Hamas, who at the very time was negotiating a truce relating to cross-border violence. Unraveling the competing claims of acting defensively should at least acknowledge this complexity that makes polemical the contention that only one side is responsible. The Obama administration, with its usual deference to Tel Aviv, misleading told the story of the sustained violence as if only Israel was entitled to claim a defensive prerogative.
Fourthly, the role of the United States, while still significant, was considerably downsized by these other factors, especially by the need to allow Egypt to play the main role as arbiter. Such a need was partly, no doubt, a consequence of Washington's dysfunctional insistence of continuing to avoid any direct contact with Hamas officials. This Egyptian prominence suggests a trend toward the regionalization of Middle East diplomacy that diminishes the importance and seriously erodes the legitimacy of extra-regional interference. This is bad news for the Israelis and for the United States. Turkey, a state with bad relations with Israel, also played a significant role in defusing the escalating crisis.
There exists a revealing gap between the U.S. insistence all along that Israel's use of force was fully justified because every country has the right to defend itself and the ceasefire text that placed restrictions on future violence as being applicable to both sides. After the ceasefire, the United States needs to make a defining choice: either continue its role as Israel's unconditional enabler or itself adopt a more 'pragmatic' approach to the conflict in the manner of Morsi. If the United States remains primarily an enabler, its diplomatic role is likely to diminish rapidly, but if it decides to adopt a balanced approach, even if quietly, it might still be able to take the lead in establishing a real peace process that is sensitive to the rights of both sides under international law. To make such a shift credible, President Obama would have to make a major speech to the American people at some point explaining why it is necessary to choose between partisanship and diplomacy in reshaping its future relationship to the conflict. However sensible such a shift would be both for American foreign policy and the stability of the Middle East, it is highly unlikely to happen. There is nothing in Obama's resume that suggests a willingness to go to the people to circumvent the dysfunctional outlook of special interest groups that have dominated the way the U.S. Congress and the media present the conflict.
Fifthly, the United Nations was made to appear almost irrelevant, despite the presence of the Secretary General in the region during the diplomatic endgame. Ban Ki Moon did not help matters by seeming to echo the sentiments coming from Washington, calling attention almost exclusively to Israeli defensive rights. The UN could provide more neutral auspices for future negotiations if it were to disentangle itself from Western geopolitics. To do this would probably require withdrawing from participation in the Quartet, and pledging a commitment to a sustaining and just peace for both peoples. As with United States, it is highly unlikely that the UN will make such a move, at least not without prior authorization from Washington. As with Obama, there is nothing in the performance to date of Ban Ki Moon as Secretary General that suggests either the willingness or the capacity to act independently when the geopolitical stakes are high.
Sixthly, the immediate aftermath of the ceasefire was a call from the Gaza streets for Palestinian unity, symbolized by the presence of Palestinian Authority, Hamas, Islamic Jihad, and Popular Front for the Liberation of Palestine flags all flying in harmonious co-existence. As the New York Times commented, "a rainbow not visible here in years." If Palestinian unity holds, and becomes a practical reality by being implemented at governmental levels, it could alter the political landscape in a fundamental manner. To take hold it would require open and free elections throughout Occupied Palestine. If this narrative were to unfold, it might make the ceasefire to be perceived as much more than a temporary tense truce, but as a new beginning in the long march toward Palestinian justice.
All in all, the outcome of Operation Pillar of Defense was a resounding defeat for Israel in at least three respects: despite the incessant pounding of Gaza for eight days and the threat of a ground invasion, Hamas did not give in to Israeli demands for a unilateral ceasefire; the military capabilities of Gaza rockets exhibited a far greater capacity than in the past to inflict damage throughout the whole of Israel including Tel Aviv and Jerusalem, which suggests that in any future recurrence of major violence the military capabilities at the disposal of Gaza will become even greater; and the Israeli politics of promoting the Palestinian Authority as the only legitimate representative of the Palestinian people while refusing to deal with Hamas was dealt a heavy, possibly fatal, blow.
There is one chilling slant being given by Israeli officials to this attack on Gaza. It is brazenly being described as 'a war game' designed to rehearse for an impending attack on Iran. In the words of Israel's ambassador to the United States, Michael Oren, "Israel was not confronting Gaza, but Iran." Considering that at least 160 Gazans were killed, 1000 wounded, and many more traumatized, this is, or should be, a shocking admission of a declared intent to commit crimes against humanity. It should at least prompt the UN Human Rights Council to appoint a fact-finding mission to assess the allegations of criminal conduct during the military attack. In effect, the situation demands a Goldstone 2 report, but this time with the political will to follow through, assuming that incriminating findings are reported.If the HRC does not initiate such a process, as seems a near certainty at this point, the responsibility and the opportunity is a challenge to civil society organizations committed to peace and justice. Given the tactics and disproportionate levels of violence, it would be a fresh abuse of those who died and were injured, to fail to assess this behavior from the perspective of international criminal law.
These developments will themselves be affected by the pervasive uncertainties that make it likely that the ceasefire will be a short truce rather than a dramatic turn from violence to diplomacy. Will the parties respect the ceasefire? Israel has often in the past made international commitments that are later completely abandoned, as has been the case with dismantling the numerous 'outposts' (that is, 'settlements' unlawful even under Israeli law) or in relation to the commitment to settle the 'final status' issues associated with the Oslo Framework within five years. It is not encouraging that Israeli officials are already cynically whispering to the media that they agreed to nothing "beyond the immediate cessation of hostilities." The undertakings of the text are thus being minimized as 'talking points' rather than agreed commitments that lack only specific mechanisms for their implementation. If Israel refuses to give effect to the agreed stoppage of targeted assassinations and does not move to end the blockade in good faith, it will not be surprising to see the rockets flying again.
The Palestinian Authority is poised to regain some of its lost ground by seeking recognition by the UN General Assembly of its status as 'a non-member state' on November 29, 2013, a move being fiercely resisted by Tel Aviv and Washington. It is probably too much to expect a softening of this diplomacy. Any claim of Palestinian statehood, even if only of symbolic significance, seems to threaten deeply Israel's hypocritical posture of agreeing to the creation of a Palestinian state in the abstract while doing everything in its power to oppose any Palestinian efforts to claim statehood.
Such speculations must be conditioned by the realization that as the clock ticks the international consensus solution to the conflict, an independent sovereign Palestine, is fast slipping out of the realm of the feasible, if it has not already done so. The situation of prolonged occupation has altered the demography of Occupied Palestinian and raised the expectations of most Israelis. With as many 600,000 unlawful settlers in the West Bank and Jerusalem no foreseeable Israeli government would survive if it agreed to any conflict-resolving arrangement that required even a small percentage of those settlers to leave. In contrast, on the Palestinian side no arrangement would be sustainable without the substantial reversal of the settlement phenomenon. So long as this 1000 pound gorilla strides freely along the corridors of diplomacy, attaining a genuine peace based on the international consensus of two states for two peoples seems an exercise in wishful thinking.
At the same time, history has shown us over and over again that 'the impossible' happens, impossible in the sense that it is an outcome that informed observers rejected as 'possible' before it surprised them by happening. It happened when European colonialism was defeated, and again when the Soviet internal and external empire suddenly disintegrated, and then when the apartheid regime was voluntarily dissolved. Sadly, the Palestinian destiny continues to be entrapped in such a foreclosed imaginary, and yet as we have learned from history the struggles of oppressed peoples can on achieve the unforeseeable. It is just barely possible that this latest display of Palestinian sumud (steadfastness) in the face of Pillar of Defense, together with the post-2011 increased responsiveness of the governments of Israel's neighbors to the wishes of its their own citizenry, will give rise to a sequence of events that alters the equations of regional and global power enough finally to give peace a chance.
Richard Falk is an international law and international relations scholar who taught at Princeton University for forty years. Since 2002 he has lived in Santa Barbara, California, and taught at the local campus of the University of California in Global and International Studies and since 2005 chaired the Board of the Nuclear Age Peace Foundation.

UN independent expert calls for boycott of businesses profiting from Israeli settlements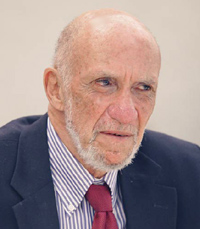 25 October 2012 – A United Nations independent expert today called on the world body's General Assembly, as well as civil society, to take action against Israeli and international businesses that are profiting from Israeli settlements in the occupied Palestinian territory.
Richard Falk (left)
To the article: UN News Centre

Stop the Blank Check!
Public advertising is the new battleground for Palestinian and American interests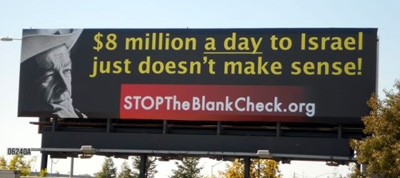 Making a point in Sacramento
Here is a new billboard, paid for by donations. It is shown from US-50 westbound, southwest of Sacramento, a section of the main highway belt receiving major traffic. The billboard was designed to appeal to those not particularly informed about the issue, and not even necessarily sympathetic to Palestinians. This is deliberate: there is no point trying to win people who already sympathize with us.
The billboard has been up for two weeks now, and will remain for another two weeks or more. It connects to a website that offers additional information and is another donation site.
More on: stoptheblankcheck.org.

Palestinians need a one-state solution
Ghada Karm, The Guardian Online
20.09.2012
Palestinian autonomy is an illusion. A plan B involving a struggle for equal rights would expose the reality of occupation by Israel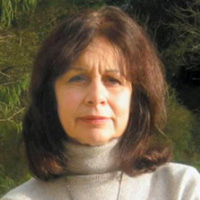 Ghada Karmi
(...) Few would dispute the Palestinian entitlement to a state, but it simply cannot be achieved given the present reality. It was always folly to pursue the two-state solution in a context that militated against its ever happening. Today's Israel-Palestine is demonstrably one state, impossible to divide. But it is a discriminatory state operating an apartheid-style system against the Palestinians with impunity. Gross economic inequality is one indicator of this system...
Full article in The Guardian...

Palestinian rejection of 1947 partition was rational response to colonialism
by Joseph Massad, Prof., Columbia University, USA
06.08.2012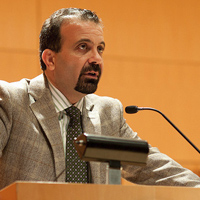 Joseph Massad
(...) Partitioning Palestine between its Jewish colonial settler population and the indigenous Palestinians was first proposed by the British Peel Commission in 1937, while the Palestinians were staging one of the most massive revolts (1936-1939) encountered by the British Empire in the 20th century. It was revived again in the 1947 United Nations General Assembly's Partition Plan.
The Palestinians rejected it strategically, because they saw it as a concession to the Zionist colonial theft of their lands – and the Zionists accepted it tactically, as a step towards the final dispossession of the Palestinians and the theft of their entire country...

Israel 'breaching UN convention on children's rights'
A UK government-backed report has accused Israel's security forces of regularly breaching the UN Convention on the Rights of the Child (UNCRC).
The report deals with a comparative analysis of Israeli domestic law as it applies to Israeli children and Israeli military law as it applies to Palestinian children.The central questions addressed are: what are the differences between the two systems and is there any justification for these differences.
A delegation of senior lawyers visited Israel and West Bank and analysed the effects of Israel's military judicial system on Palestinian children.
They found "undisputed facts" showed six UNCRC articles had been breached. The lawyers urged Israel to address differences in the way Israeli and Palestinian children were treated.
Israeli military law is applied to Palestinian children detained by the Israeli authorities in the West Bank because it is under military occupation. However, Israeli children - including those living in Jewish settlements on occupied land in the West Bank, which are considered illegal under international law - are subject to Israeli criminal and civilian law.
Currently, the maximum period an Israeli child can be detained without charge is 40 days. For a Palestinian child the period is 188 days...
The report was written by a delegation of British lawyers on the treatment of Palestinian children under Israeli military law: Children in Military Custody (PDF).
To the article on bbc.co.uk...



A poem from Günter Grass sets the cat among the pigeons in Germany
by Ian Portman, PAKO-Stuttgart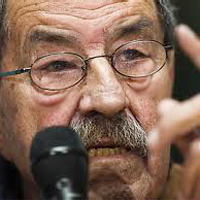 For over a week, leading German politicians have been exposed to rather unexpected heavy weather: they don't know how to react to Günter Grass' latest poem. The somewhat prosy and grammatically difficult text deals with a subject that most politicians prefer to brush aside. The poem What needed saying (or What must be said) deals with the difficult in Germany of criticising Israel (that is Israeli political decisions) without being accused of antisemitism. Particularly difficult for Grass is the fact that he fought briefly in the Waffen SS as a seventeen-year-old at the very end of the second world war. He was conscripted: like many others compelled to join the last ditch effort of Nazi Germany. Such a revelation would probably have been met with understanding had he made it in the 1950s. But it was only in 2006 that his war service finally came to light. So Grass is an easy target for those who want to smear him as an antisemite.
An easy target for those who have no knowledge of German politics and society. Grass, a Nobel Prizewinner (for Literature) is internationally recognised as a great writer and a leading humanist. It can be argued that his contribution to our understanding of the horrors of Nazism in The Danzig Trilogy - especially in The Tin Drum) led to greater understanding between Germany and its neighbours, and to a rehabilitation of the German nation.
So when the Israeli ambassador to Berlin opined that What needed saying belonged to the long tradition of antisemitic Jew-baiting before the Passover feast, that came over rathere badly among ordinary Germans. Our foreign minister, Guido Westerwelle said it was "absurd" to consider Iran and Israel morally equal. (Which raised the question: had he actually read the poem?)
On the other hand, an opinion poll in the Financial Times -Deutschland showed that 84% of respondents believed what Grass had said was correct or worth discussing. And following the declaration by Israel of Grass as persona non grata, even leading politicians complained that Israel had gone too far. In Israel itself, leading liberal voices talked of "hysteria" over Grass' poem.
Here is an English translation of the "evidence" so you can make up your own mind:
What needed saying: an English version of Günter Grass' poem

Tunisia's Jews shun 'migrate to Israel' idea
by Wyre Davies BBC News, Tunisia
In the wake of the Arab Spring, an Israeli government minister said that for their own safety all of Tunisia's remaining Jews should move to Israel. Hundreds of thousands of Jews once lived across North Africa and the Middle East before the creation of Israel in 1948. But the suggestion that the small communities that remain should disband has been largely met with derision - from the Jews themselves.
To the article on bbc.co.uk...

Scottish Green Party reject 'green' claims of charity involved in ethnic cleansing of Palestinians
The Scottish Green Party, yesterday condemned the Jewish National Fund (JNF), a British charity implicated in human rights violations in Israel. At its annual conference in Aberdeen, delegates unanimously supported a motion against the JNF and called for its charitable status to be revoked.
In May of this year, David Cameron resigned as honorary patron of the JNF, the first time in the history of the JNF that a British Prime Minister has not held this position. The Scottish Greens are the first elected party overtly to condemn the JNF.
To the article at stopthejnf.org ...

Housing rights in Israel – The Bedouin case
Alternative Jewish Perspectives on Israel-Palestine
Israel has approved the biggest plan for forced-displacement of Palestinians since 1948 by Eyal Clyne, JNews Blog
Friday, 23 September, 2011
London, UK
Last week the Israeli government approved a new plan to displace 30,000 native Bedouin Arabs of the Negev/Naqab from their homes.[1]
"The Program for Regulating Bedouin Settlement in the Negev" is the biggest dispossession plan issued by Israel since 1948. It would forcibly relocate about half of the Bedouin population from their existing villages, which are older than the state of Israel itself, into existing small towns or townships, designated specifically for the Bedouins by the state...

De-democratization in Israel
Repressions Against Human Rights Defenders and the Need for Implementation of the EU Guidelines on the Protection of Human Rights Defenders
* By Annette Groth and Tanja Tabbara
It is becoming increasingly difficult to defend human rights in Israel. Acts of repression against human rights defenders and several recent legislative bills that violate the rights to freedom of speech and freedom of association reflect a steady erosion of democracy in Israel. While the European Union (EU) has recognized the special need to protect human rights defenders by adopting the EU Guidelines on Human Rights Defenders, which encourage its Member-States to create and promote thirdcountry implementation strategies, the Guidelines have yet to be implemented in Israel. EU Member-States, such as Germany, have taken the lead in promoting and implementing the guidelines in many third-party states, and should continue to advocate for the adoption of the Guidelines in Israel... Full article PDF
This article was published on the Website of the Washington College of Law Human Rights Brief
* Annette Groth is a member of the German parliament and spokesperson for human rights of the Left party in the German parliament. Tanja Tabbara is advisor on human rights and the Middle East to Annette Groth.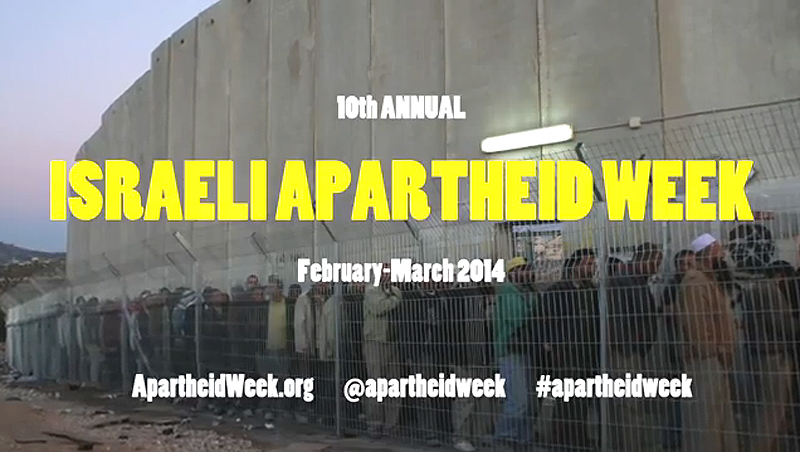 BDSMovement.net is born out of the need to offer all those interested and active in the Boycott, Divestment and Sanctions (BDS) movement a shared space for information, analysis, exchange of ideas and experiences. This website is overseen by the steering committee of the Palestinian BDS National Committee and has been adopted as a tool of the ICNP (International Coordinating Network on Palestine) to support efforts of networking and coordination.

Nobel Peace Prize Laureates Who Have Spoken Out Against Israeli Apartheid
Nelson Mandela: "…injustice and gross human rights violations were being perpetrated in Palestine. In the same period the UN took a strong stand against apartheid; …which helped to bring an end to this iniquitous system. But we know too well that our freedom is incomplete without the freedom of the Palestinians."
Find more quotes on this PDF.
More facts and resources on: It is Apartheid

A South African in Israel
Denis Goldberg
Following his recent stay in Israel, Denis Golberg, veteran of the anti-apartheid struggle in South Africa, described his impressions thus:
The blindness to reality shocked me in Israel. Many progressive people who were opposed to apartheid would assert that there was no racism in Israel and that all were treated equally. Naturally they all knew I am not a Zionist because I would speak about Jewish Israelis and Palestinian Israelis to counter their bland usage of the word Israeli to mean only Jewish citizens. There are innumerable laws that make Palestinians aliens in their own land. I was asked to speak about apartheid in South Africa and it was striking that some in my audience would be very upset because they said I was describing Israeli life and law and segregation and racist ideology implanted in the minds of young people through daily experience, but also through their school texts, through religious instruction, through the youth movements and so on in their country when I was really describing our South African experience. I suspect that it was such talk that led Mr Segev to write the article I described above. As in apartheid South Africa, Zionist Israel does not like dissent. General Dayan said that there was not a Jewish settlement that had not been built on a Palestinian settlement that had been wiped off the face of the earth. General Sharon, an equally brutal General, later admitted that building settlements beyond the internationally agreed borders was in reality military occupation. As a matter of practical politics I accept the idea of the two state solution decided by the UN Security Council way back in 1948. That the secular PLO took so long to accept that basis does not alter the international legitimacy of this approach.
It is in my view not possible to achieve peace in a theocratic or priest driven society. Just as I reject the quasi religious basis of an exclusive Zionist Jewish state so I reject the quasi religious basis of Islamic states. One of the reasons for the ultimate lack of success of the secular PLO is that the feudal oil states of the Middle East would prefer to have Zionist Israel as their opponent and collaborator, than accept a secular Palestinian state. Palestinians are the administrators and skilled as well as labouring work force of the Middle East. As foreigners, albeit co-religionists, in the lands they find themselves in, they have virtually no political rights. With the backing of a putative secular Palestinian state, the feudal rulers would find themselves under threat of a revolution led by civil society and a demand for social democratic political systems.
Notes for Future Talks on Palestine and Israel
from Denis Goldberg's book
The Mission – A Life for Freedom in South Africa
Our world is a dangerous place – no conflict is more important than the demand for freedom by our Palestinian Brothers & Sisters. We in South Africa know about racial oppression. We fought it and defeated it because it was unjust. We fought it to be free to rebuild our country
The world condemned apartheid and international anti-apartheid campaigning was an important part of our struggle. It helped to isolate the apartheid regime politically, economically, diplomatically, socially and militarily all had their effects.
The condemnation of apartheid was of course based upon inherent denial of human rights and dignity to the mass of our people. the inherent violence of apartheid was condemned eg the military occupation of our townships the shootings and massacres shown on tv shocked people everywhere people, ordinary people, compelled their governments to take action against apartheid
The violence of the apartheid regime was as nothing in comparison with the utter brutality of Israel's occupation of Palestine. I mean the whole of Palestine from which Palestinian Arabs have been driven out. The greatest violence is seen in the occupied West Bank and Gaza.
We did not see tanks with guns blazing protecting armoured bulldozers. Nor did we see armoured helicopter gunships "taking out" homes, children, whole families with great precision!
We did not see the destruction by bombing of the whole centres of towns. We did see the brutalisation of our people on the same scale. Not only the oppressed were brutalized; we saw the brutalisation of young white soldiers and policemen and those black soldiers and police who could be induced to serve the oppressor. That pain and suffering too has to be overcome.
We see the same brutalisation of whole generations of Palestinain Arabs. The suffering of people prevented from going to a doctor. Of ambulances being stopped. Of pregnant women forced to give birth at checkpoints. We see the same brutalisation of generations of young Israeli soldiers called upon to destroy a people and a society. Checkpoints and fences we know about from the bantustanisation/balkanisation of our Country with artificial boundaries and with migrant labour.
The Group Areas Act that determined where people could live. NO PRIZES for guessing who had the best and who had the worst
I must digress a little to talk about apartheid
Yes, a system of racial oppression. But why? Always more complex than "simple" hatred of another race It was a system of economic exploitation – no rights makes wages low Every business school teaches what every businessman knows: low wages make fat profits apartheid was a system of social segregation, labour laws for exploitation and control –ie an economic system "legal" control of people by race all overtopped by an ideology of racial superiority to explain away the iniquity of the system
We South African recognise all these features in the Israeli oppression of the Palestinians We recognise from our history that as the peaceful resistance intensifies the occupying power resorts to more and more force. The oppressed begin to say, as in South Africa, that they shall take up arms to defend themselves At that point the terrorised oppressed people suddenly become even more demonised as terrorists! At that point the world must help to find a political solution before the brutalisation and genocide of a whole nation is allowed to happen without our protest. We must stop that from happening Whatever the protestations by the Israeli state its policy has always been to drive all Palestinian Arab people out of that state. The boundaries of the state have steadily expanded until but 22 percent of the land is nominally left to the Palestinians We know that there are about one million Palestinian Arab citizens of Israel but they are denied many rights of citizens They may not acquire land or property. Where will their children live when they are adults and raise their own families? South Africa did the same under the Group Areas Act.
This is land theft on a grand scale. It is accompanied by falsehoods: "Palestinians abandoned their land and effectively gave it to Israel" a statement that simply ignores the massacres and deliberate destruction of villages.
Notoriously General Dayan said that there is not an Israeli village or settlement that is not built on an Arab village the armed forces of Israel have destroyed.
We add that their names have been deliberately obliterated from maps as they and their people were obliterated. This theft of land continues
Palestinians are remarkably generous they say they will accept the 22 per cent of their own land in the West Bank and Gaza as the basis of their independent state based on UN Resolutions which are the sole legal justification of the state of Israel
Yet Israelis settle on the hilltops and then defend the newly stolen land with their enormous military firepower Any Palestinians who wants their land back, and should have the support of the Israeli courts and the ICJ, is of course a "terrorist"
The utter humiliation the Palestinian people through the domination of their land by illegal settlers who steal and occupy the high ground is real and inflammatory
The theft of land has even more serious economic consequences
In such a water stressed area, land without water is useless. Israelis have stolen over 90 percent of the Jordan waters for their economy destroying the Palestinian Arab economy in the process over 70,000 olive trees, many of them hundreds of years old, have been destroyed by the Israelis.
They say for security reasons: to build apartheid like razorwire fences and military roads
But in reality to destroy the Arab economy
Trees use water
At the same time Israel with the help of the Jewish National Fund, supported by Zionists all over the world, has created new plantations and forests, and new lakes, for leisure activities and water sports. It is easy to forget these facilities
have been created on stolen land
Have been created with stolen water
Have been created at the expense of the lives of countless Palestinian Arab people
Israelis claim that they are the elect of God and find a biblical justification for their racism, something like the Afrikaners of apartheid South Africa
The British did not need such beliefs they claimed a pseudo-scientific Darwinian "survival of the fittest" justification for their colonisation
Economic power was the means and the rationale was military power
We demand action
You helped us through anti-apartheid movements to isolate South Africa
Support the call for economic sanctions on all goods produced in Israel
We call for an embargo on sporting and cultural contacts
We demand the immediate and unconditional withdrawal of Israel from the occupied territories of the West Bank and Gaza We demand that Israel negotiate in good faith with the acknowledged leaders of the Palestinian people and we demand that they cease their claim to decide who those representatives should be
( For some of the most serious state terrorists the world has seen to assert the right to decide who they will negotiate with is intolerable)
Israel must recognise that the use of force to oppress a people simply evokes more force
Therefore we say
:
Get out of the West Bank and Gaza
Get out of the West Bank and Gaza NOW!

Denis Goldberg born in Cape Town, 1933 is a South African social campaigner, and veteran of the struggle against apartheid. He was imprisoned in Pretoria for 22 years. Goldberg was a spokesperson for the ANC and also represented it at the Anti-Apartheid Committee of the United Nations.

Police clash with Bedouin attempting to rebuild razed village
Haaertz, 04.08.10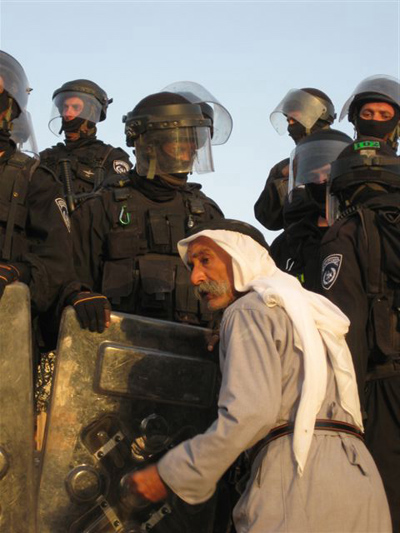 A number of injuries has been reported, among them MK Talab El-Sana, who apparently fainted while entrenched in a tent constructed to protest the village's demolition. By Jack Khoury and Yanir Yagna
Clashes broke out on Wednesday between residents of an unrecognized Bedouin village and Israel Land Administration workers, who arrived to stop Bedouin who were trying to rebuild the village.
Al-Arakib, which is located north of Be'er Sheva, was razed by authorities last week after it was deemed illegal; several tents have been erected since then in an effort to rebuild the village.
The Bedouin villagers claim that the police acted violently during the clashes. A number of injuries have been reported, among them MK Talab El-Sana, who apparently fainted while entrenching himself in one of the tents constructed to protest the village's demolition. He was taken to Soroka Medical Center in Be'er Sheva for treatment. To the article...

Flotilla aims to break Israel's grip on Gaza
PAUL MCGEOUGH, 25th May 2010, Sydney Morning Herald
A global coalition of Palestinian support groups is taking protest to a dangerous new point of brinkmanship this week, with an attempt to crash through Israel's naval blockade of the Gaza Strip in a flotilla of cargo and passenger boats now assembling in the eastern Mediterranean.
Converging at an undisclosed rendezvous in international waters, the four small cargo boats and four passenger vessels - ranging from cruisers carrying 20 to a Turkish passenger ferry for 600 - are a multimillion-dollar bid to shame the international community to use ships to circumvent Israel's tight control on humanitarian supplies reaching war-ravaged Gaza.
Full Article: Flotilla aims to break Israel's grip on Gaza



Palestinian nonviolence relies on global non-silence
guardian.co.uk, Friday 21 May 2010
The world cannot expect Palestinians to abandon violence while remaining silent on Israel's repression of nonviolent activists
Special Place in Hell / Rebranding Israel as a state headed for fascism
By Bradley Burston, Haaretz 18.05.2010
(...) We have grown desensitized to the consequences of actively denying basic staples and construction supplies to 1.5 million people in Gaza, many of them still waiting to rebuild homes we destroyed.
We have grown inured to the appropriation of Palestinian-owned West Bank land, to abusive treatment of law-abiding Palestinians at checkpoints, to the ill-treatment and summary expulsion of foreign workers, to racist, anti-democratic and, yes, fascistic rulings by extreme rightist rabbis, especially some of those holding official positions in the West Bank...
Divesting From Injustice
Desmond Tutu, Huffingtonpost 13.04.2010
It was with great joy that I learned of the recent 16-4 vote at UC Berkeley in support of divesting the university's money from companies that enable and profit from the injustice of the Israeli occupation of Palestinian land and violation of Palestinian human rights. Principled stands like this, supported by a fast growing number of U.S. civil society organizations and people of conscience, including prominent Jewish groups, are essential for a better world in the making, and it is always an inspiration when young people lead the way and speak truth to power.
Despite what detractors may allege, these students are doing the right thing. They are doing the moral thing. They are doing that which is incumbent on them as humans who believe that all people have dignity and rights, and that all those being denied their dignity and rights deserve the solidarity of their fellow human beings.
I have been to the Occupied Palestinian Territory, and I have witnessed the racially segregated roads and housing that reminded me so much of the conditions we experienced in South Africa under the racist system of Apartheid. I have witnessed the humiliation of Palestinian men, women, and children made to wait hours at Israeli military checkpoints routinely when trying to make the most basic of trips to visit relatives or attend school or college, and this humiliation is familiar to me and the many black South Africans who were corralled and regularly insulted by the security forces of the Apartheid government...
Are Israeli Arabs the new African Americans?
By Tom Segev, Haaretz, 05.04.2010
(...) The general principles of the Declaration of Independence resemble those of the American Declaration, from 1776, the foundation document of the American dream, which Martin Luther King also quoted.
A re-reading of the dreams King set forth in his speech reflects a speaker who was living in a society that nurtured discrimination and especially segregation between the races. It is easy to forget he was speaking in the second half of the 20th century.
The situation of the Arabs in Israel in 1963 was also very difficult. Nearly all of them lived under the rule of military government, which imposed restrictions on mobility and other draconian regulations that were arbitrarily, insensitively and sometimes maliciously enforced.
One of the main purposes of the military government imposed on the Arabs was to make it easier to expropriate their lands. Most of them were allowed to vote and to stand for election, but the various government authorities, including the Prime Minister's Office, the Shin Bet security service, the Israel Defense Forces, the Histadrut labor federation and the political parties effectively denied them the right to free political organization. And they suffered discrimination in many other areas, too.
(...) The similarity between the struggle of America's blacks and that of Israel's Arabs is expressed in the contents of their respective dreams: a state of all its citizens. The blacks in America had, and still have, a basis for being optimistic. That is the main difference between them and the Arabs of Israel.
To the article: Are Israeli Arabs the new African Americans?



Celebrating Land Day
The Palestinian calendar is full of special days. Growing up, day after day and year after year, we were introduced to these special days, and with time more such days joined our calendar. Almost every month there is something to commemorate; a day to commemorate the Nakba of the Palestinian people, a day to remember the martyrs killed by the Israeli occupation army, a day to remember every crime committed by Israel and its allies against the people of Palestine. And there are days when we celebrate our legitimate rights: we celebrate our right to self-determination by remembering the heroes of our resistance movement, we celebrate our right to live freely in our land by remembering the prisoners imprisoned for freedom, and we celebrate our right to live by celebrating Palestinian mothers, celebrating Palestinian children and celebrating the reason for all other celebrations: we celebrate Palestine...
To the blog...

Negev group: Israel misinformed UN about woes of Bedouin
By Dana Weiler-Polak, Haaretz, 28.03.2010
The United Nations requested in October an official Israeli response to a report claiming the state was inaccurate in describing the status of Bedouin living in the Negev.
The August 2009 report by the Negev Coexistence Forum, comprising residents of unrecognized Bedouin villages, says there are contradictions and inaccuracies in Israel's last annual statement on the implementation of the United Nations International Covenant on Civil and Political Rights, which it submitted in July 2008.
This is the first time the UN has made such a request with regard to Israeli citizens. "In the area of political and civil rights, Israel represents the standards of a Third World country," forum coordinator Noam Tirosh said.
"How does this jibe with Israel's claim that it is the only democracy in the Middle East? It is inconceivable that in 2010, tens of thousands of citizens are not connected to the electricity grid, do not have running water and do not have basic civil and political rights."
The Sheikh Jarrah activists: a new path for the Left
Ronen Medzini, Ynet/Yediot Aharonot, 5 March 2010
() What started out as a march of 20 youngsters protesting the entry of Jewish settlers into an East Jerusalem neighbourhood, has over the past few months turned into a political phenomenon that cannot be ignored. Several hundred activists, intellectuals and politicians gather every Friday at noon in order to demonstrate against the major wrongdoing. The strong-arm attitude displayed by the police only reinforced the struggle. It turned the struggle from a marginal cause to a symbolic centre that serves as a focal point for Leftists from around the country. They even dragged the State into the High Court of Justice. There they achieved a milestone when the judges authorised a large demonstration for Saturday night...
New EU foreign policy chief lambasts "Israeli occupation"
Akiva Eldar, Haaretz
Catherine Ashton on Tuesday leveled scathing criticism at the "Israeli occupation," in her first speech as the European Union's first high representative for foreign affairs and security policy.
The British stateswoman, who has also served as the Commissioner for Trade in the European Commission, said that in the EU's view, "East Jerusalem is occupied territory, together with the West Bank."
Ashton demanded that Israel immediately lift its blockade on the Gaza Strip, and reiterated that the union opposes the existence of the West Bank separation fence, as it opposes evictions of Palestinians from their homes in East Jerusalem...
Complete Article


Interview with Dr. Uri Davis
Congratulations on your election to the Revolutionary Council of FATH which will no doubt afford you considerable influence within this powerful Palestinian organization.
Since we value your opinion as an analyst of politics in Palestine, we would be glad if you could find time to give us a short, written interview about your political aims within FATH and the perspectives you see for this organization after the congress in Bethlehem. To this end, here are some questions.
Complete Interview (PDF)

The One State Declaration
Counterpunch
For decades, efforts to bring about a two-state solution in historic Palestine have failed to provide justice and peace for the Palestinian and Israeli Jewish peoples, or to offer a genuine process leading towards them.
The two-state solution ignores the physical and political realities on the ground, and presumes a false parity in power and moral claims between a colonized and occupied people on the one hand and a colonizing state and military occupier on the other. It is predicated on the unjust premise that peace can be achieved by granting limited national rights to Palestinians living in the areas occupied in 1967, while denying the rights of Palestinians inside the 1948 borders and in the Diaspora. Thus, the two-state solution condemns Palestinian citizens of Israel to permanent second-class status within their homeland, in a racist state that denies their rights by enacting laws that privilege Jews constitutionally, legally, politically, socially and culturally. Moreover, the two-state solution denies Palestinian refugees their internationally recognized right of return...
Read The One State Declaration on counterpunch.org


United Nations Fact Finding Mission on the Gaza Conflict
UN Fact Finding Mission finds strong evidence of war crimes and crimes against humanity committed during the Gaza conflict; calls for end to impunity...
Report of the United Nations Fact Finding Mission on the Gaza Conflict


The dark side of Tel Aviv
By Gideon Levy, Haaretz 21. Sept. 2009 The glitzy celebrations for the White City's 'centenary' airbrush over a complex history of colonialism
The centenary of Tel Aviv, a city said to date from 1909, has provided a useful opportunity to present the face of Israel as a hip country built by Jewish pioneers on empty sands. Its vibrant cosmopolitan flavour, its commercial centre, its Mediterranean beaches, its liberal society and culture, are seen as signifying a truly commendable Zionist enterprise. According to the blurb on the centenary celebrations "several dozen families gathered on the sand dunes on the beach outside Yafo to allocate plots of land for a new neighbourhood they called Ahuzat Bayit, later known as Tel Aviv".
After the horrors of the Gaza onslaught and unending blockade, and the evidence of war crimes committed by the Israeli Defence Forces (IDF) early this year (which Israel has responded to with hysterical denial) no effort has been spared by the Israeli embassy and its propaganda machines to deflect the attention of the world to Israel's marvellous technical and medical discoveries, and to use Tel Aviv to present its upbeat image. Hence Tel Aviv festivities were organised in New York, Vienna, Copenhagen and Paris, with the creation of Tel Aviv beaches in Central Park and along the banks of the Seine, the Danube and Copenhagen's canals...
(...)
As Yonathan Mendel says in his article "Fantasising Israel" in the London Review of books:
It [Tel Aviv] didn't just emerge from the sand in 1909, as the Zionist myth tells us. Al-Sumayil, Salame, Sheikh Munis, Abu Kabir, Al-Manshiyeh: these are the names of some of the villages that made room for it and the names are still used today. Tel Avivians still talk about the Abu Kabir neighbourhood, they still meet on Salame Street. Tel Aviv University Faculty Club used to be the house of the sheikh of Sheikh Munis.
The Israeli organisation Zochrot has published maps of Tel Aviv showing where Arab localities existed, particularly in Jaffa and its suburbs to the south, and in smaller villages east and north of the city, but which have been erased from maps of the region and its posted signs...
Read the article in guardian.co.uk


Disgrace in The Hague
By Gideon Levy, Haaretz 21. Sept. 2009
There's a name on every bullet, and there's someone responsible for every crime. The Teflon cloak Israel has wrapped around itself since Operation Cast Lead has been ripped off, once and for all, and now the difficult questions must be faced. It has become superfluous to ask whether war crimes were committed in Gaza, because authoritative and clear-cut answers have already been given. So the follow-up question has to be addressed: Who's to blame? If war crimes were committed in Gaza, it follows that there are war criminals at large among us. They must be held accountable and punished. This is the harsh conclusion to be drawn from the detailed United Nations report.
Disgrace in The Hague - haaretz.com


Tutu to Haaretz: Arabs paying the price of the Holocaust
Akiva Eldar, Haaretz
"The lesson that Israel must learn from the Holocaust is that it can never get security through fences, walls and guns," Archbishop Emeritus Desmond Tutu of South Africa told Haaretz Thursday.

Commenting on Prime Minister Benjamin Netanyahu's statement in Germany Thursday that the lesson of the Holocaust is that Israel should always defend itself, Tutu noted that "in South Africa, they tried to get security from the barrel of a gun. They never got it. They got security when the human rights of all were recognized and respected."
Read the full article in Haaretz




Rights activist honoured in Germany - causing furore in Israel
The president of Germany, Horst Köhler, has conferred the Federal Cross of Merit, first class, the most prestigious award in Germany, on Israeli lawyer Felicia Langer, a human rights activist, living in Tbingen, southern Germany. Langer is an active and resolute critic of Israel's policies towards Palestinians.
The citation reads: Langer's life's work of humanitarian activity is impressive. She has engaged in an outstanding way for peace and justice as well as in the defence of human rights. Her long years of activity for the disadvantaged and oppressed deserve great respect and the highest recognition.
The award has caused a predictable wave of outrage from Israeli polititians and diplomats who are already swinging the cudgel of antisemitism and hinting darkly that Germany is returning to its bad old ways. More of such tripe may be read here: Jerusalem Post: Germany honors Israeli 'Israel hater'



Caryl Churchill's Seven Jewish Children staged in Tel Aviv
Rachel Shabi, guardian.co.uk, Friday 12 June 2009
(...) The Israeli production was staged as part of a wider campaign organised by a coalition of leftwing groups against the two-year blockade of the Gaza Strip.
I love the way [Churchill] wrote it," said one of the cast, Sarah von Schwartze. "You can see she understands how Israelis came to be in this situation."
The new production was directed by Samieh Jabbarin, an Arab-Israeli theatre artist based in Jaffa. Jabbarin is currently under indefinite house arrest after being apprehended in protests against the far right at the Arab-Israeli town of Umm al-Fahm in February; he directed proceedings via phone and Skype.
"Churchill has achieved a beautiful artistic communication of a fundamental yet subversive truth: profound pain has no home," he said. "Pain is pain is pain. Pain is universally human."
The performance in Rabin Square featured a terror-stricken woman constantly rearranging a row of sacks around her baby's pram, in increasingly restrictive barricade formations. Around her, three actors debate, argue and advise on what to tell the child about the Holocaust, Israel, Palestinians and the war in Gaza.
Theater of the absurd
By Aviva Lori, Haaretz
Two weeks ago, Samieh Jabbarin's elderly father, Mahmoud, fell down the steep flight of stairs at the entrance to his house, and lay helpless in the front yard. Jabbarin was inside the house when he heard his mother, Rasima, shouting for help. He came running and stood at the top of the staircase. If he went downstairs to help his father, he thought, the electronic ankle bracelet attached to his right foot would go off, bringing the police to his door. He hesitated for a moment, but quickly came to his senses and went downstairs.
That time he was lucky. His father was lying within Jabbarin's permitted range of movement, and the only siren heard in his Umm al-Fahm neighborhood was that of the ambulance. A week later, panic struck once again. In the adjacent yard, which belongs to his brother Khalil Jawabre, a tree was chopped, collapsing and bringing down a telephone line. They were worried the electronic signals being sent from Jabbarin's device to police headquarters would be interrupted, or wouldn't reach them at all, God forbid, and someone would come to the conclusion that he was trying to escape.

Report of the Special Rapporteur on the situation of human rights in the Palestinian territories occupied since 1967, Richard Falk
Summary
In the light of resolution S-9 adopted by the Human Rights Council at its ninth special session, the present report of the Special Rapporteur on the situation of human rights in the Palestinian territories occupied since 1967 focuses on the main international law and human rights issues raised by Israel military operations commencing on 27 December 2008 and ending on 18 January 2009. He challenges the widespread emphasis on whether Israeli force was disproportionate in relation to Palestinian threats to Israeli security, and focuses on the prior question of whether Israeli force was legally justified at all. He concludes that such recourse to force was not legally justified given the circumstances and diplomatic alternatives available, and was potentially a crime against peace.
The Special Rapporteur also gives relevance to the pre-existing blockade of Gaza, which was in massive violation of the Fourth Geneva Convention, suggesting the presence of war crimes and possibly crimes against humanity. He considers the tactics pursued during the attacks by both sides, condemning the firing of rockets at Israeli civilian targets, and suggests the unlawfulness of disallowing civilians in Gaza to have an option to leave the war zone to become refugees, as well as the charges of unlawful weapons and combat tactics. He recommends that an expert inquiry into these matters be conducted to confirm the status under international law of war crimes allegations, and to consider alternative approaches to accountability...
Download full report as PDF (128 kb) >



Israel Guilty of War Crimes; Palestinians Winning the Legitimacy War
By Corey Balsam, March 18, 2009
An Interview with UN Special Rapporteur Richard Falk
Professor Richard Falk is the United Nations Special Rapporteur for Human Rights in the Occupied Palestinian Territories. He is world-renowned as an authority on international law and has authored and co-authored 20 books. Recently, Professor Falk has focused much of his attention on the Israeli massacres in Gaza, alleging that Israel's actions are constitutive of both violations of the laws of war and indicative of crimes against humanity. This is the transcript of a phone interview with him from his home in Santa Barbara, California.
Can you begin by explaining the reasons why you believe that Israel is guilty of war crimes and crimes against humanity?
Well that's a big question of course. I think that the attack on Gaza initiated on December 27th of last year was a violation of a fundamental norm of the UN Charter, which prohibits non-defensive uses of force. At the Nuremburg trials after World War II, that was treated as a crime against the peace, which was viewed as the most serious of all international crimes.
To the interview at > imemc.org



Clash in tense Israeli-Arab town
BBC Online, 24.03.09
Israeli-Arab protesters have clashed with police as Jewish Israeli right-wingers marched in the majority-Arab town of Umm al-Fahm. Thirteen arrests were made as police used tear gas and water cannon to disperse stone-throwing protesters. Israeli-Arab residents of the town view the march as highly provocative and had vowed to stop it. ...
Artikel und Video bei BBC Online



VIVA PALESTINA-Convoy reaches Gaza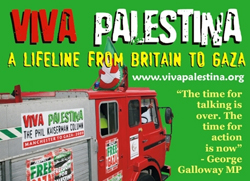 UK aid convoy crosses into Gaza
Article on BBC online
Aid convoy enters Gaza Strip
Article on AlJazeera



Peace plan adverts target Israelis
AlJazeera-article 20.11.08
Article in AlJazeera
BBC Article, 20.11.08 Arab plan explained in Hebrew ads



International Court of Justice
Legal Consequences of the Construction of a Wall in the Occupied Palestinian Territory
The Court finds that the construction by Israel of a wall in the Occupied Palestinian Territory and its associated rgime are contrary to international law; it states the legal consequences arising from that illegality... International Court of Justice


NACH

OBEN